Garage Band
We have been creating digital music using the Garage Band app on the iPads. We then had an impromptu gig from our resident guitarists!
Light and Shadow Puppetry
We put our knowledge of light + shadow and our exceptional story telling skills to good use by creating shadow puppet stories that we performed to children in the Nursery. They loved it!
Decimal and Fraction Match
We'e been practising matching decimals and fractions. We need to know that 0.25 is a quarter and 0.75 is three quarters.
Balance Arguments
As part of learning how to write a balanced argument, we had a series of debates using the outdoor learning area. Is homework really necessary? Should we wear uniform? Are school holidays too long? Despite our true beliefs, we had to come up with valid arguments for a range of opinions.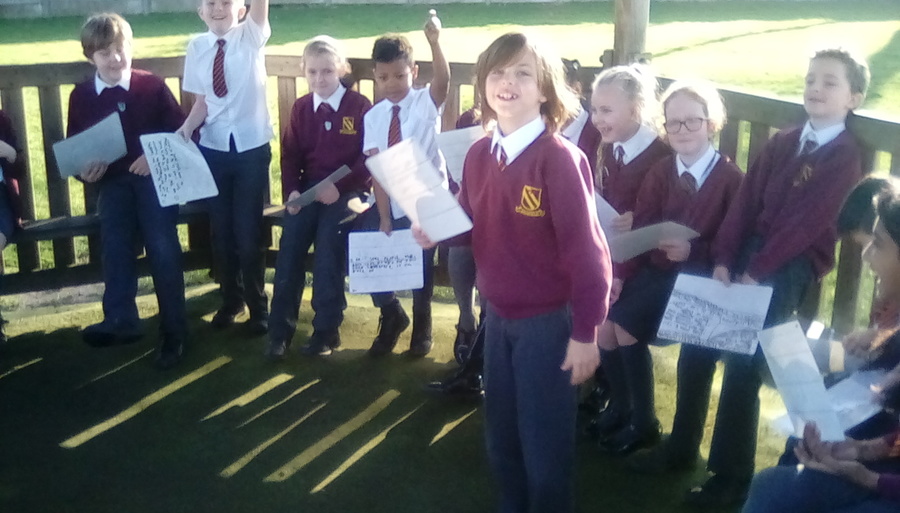 Dictionary Skills
We practised using our knowledge of the alphabet and root words to find the definitions of unknown vocabulary from our class reader.
Greek Cooking
As part of our Mediterranean theme, we made and wrote our own instructions for Greek pitta bread. We also made a lovely taramasalata to dip it in. They tasted delicious!
Money Maths
We have been practising using money and solving real life problems such as finding change from £20 for more than one item. Since many of us pay for items online or through contactless payments, we found it really useful to use the plastic coins that we have to make the activity more practical. Please take opportunities to allow children to handle money and be involved in shopping so that they can further their understanding of this area of maths.
Rally Coach Maths
We supported each other with our subtraction calculations through rally coaching. We used partner talk to guide each other through the necessary steps to be accurate in our calculations. Not only does this support those who are less confident but more confident children master their ideas better through explaining them verbally.
Growth Mindset Marble Runs
We worked in teams to develop our growth mindsets. Our challenge was to get a marble from the top left of a board into a cup on the opposite side. We used card and other recycled materials to create our marble runs. None of us were able to make one straight away but we succeeded in the end through perseverance, trial and error, using feedback from others and the marble.
Eiffel Tower
As part of our Mediterranean theme we studied France. We looked at the human and physical geography. one feature of France's human geography is the Eiffel tower which is the most popular tourist destination in the whole of the Mediterranean.
Maths Place Value
We have been deepening our understanding of place value through use of base 10 blocks. We are exploring the idea that a 9 is the highest digit that can be in any column of the place value system.
Pencil Challenge
As part of DT we challenged the children to work in pairs and communicate effectively to create a struture that could hold a pencil as high as possible. The children had limited resources and needed to show creativity.