'How did the Industrial Revolution put Manchester on the map?'
During our Theme lessons this term we will be completing a study that supports our chronological understanding of events post 1066. This will include the exploration of the factors that contributed to the start of the Industrial Revolution, and its significance for Great Britain. We will make comparisons between historical periods - explaining things that have changed and things that have stayed the same. The children will be developing historical enquiry skills by using a range of sources to help them understand more about life in Britain in the past.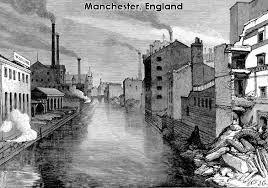 Literacy
In Literacy we will begin with a focus on a short film script called 'Alma'. The children will work collaboratively on a range of speaking and listening/drama activities that will lead to writing a setting description. Within grammar lessons we will be focusing on the accurate use of adjectives, expanded noun phrases and relative clauses to convey complicated information concisely.
We will begin our class text - 'Millions', by Frank Cottrell Boyce. Within reading lessons we will be drawing inferences, making predictions and focusing on summarising the main ideas drawn from a chapter – looking at how language, structure and presentation contribute towards meaning. This will lead to a range of writing opportunities including: letters, diary entries, wanted posters, character descriptions and newspaper reports.
We will continue to practise our cursive joined up writing every week.
Maths
Our first unit in maths has a focus on place value, in particular the value of digits up to ten million. We will then begin to solve multi-step word problems, including multiplying and dividing numbers up to 4 digits by 2 digit whole numbers. Towards the end of the half term we will do some work on fractions and geometry, looking specifically at common factors to simplify fractions and describing positions on the full coordinate grid.
Times tables (It is extremely important that the children have a secure understanding of their times tables up to 12 x 12)
Remember it is also an expectation that all Year 5's and Year 6's know all their tables to 12 x 12.
Science
In Science we will be investigating light and the way it travels. The children will work scientifically and develop an understanding that light travels in straight lines; they will then use this concept to justify that objects are seen because they give out or reflect light into the eye. This will then lead into an investigation to show the correlation between the way light travels and why shadows have the same shape as the objects that cast them.
In other areas of the curriculum we will be studying the following:
RE – In R.E. we will be exploring the question, 'Why do some people believe God exists?' This question will enable children to learn from religious and non-religious groups about different beliefs in God. It will be an opportunity to share examples of ways in which believing in God is valuable in the lives of Christians and ways in which it can be challenging. Central to this unit is the children having the opportunity to understand and appreciate different views about beliefs and enable them to express their own thoughts.
PE - We will have both indoor and outdoor P.E. lessons each week, weather permitting. Please ensure that your child has a full P.E. kit, labelled with their name, in school each week to ensure that they can participate in all P.E. lessons.
Computing – In Computing we will be learning about the development of computer games and each child will design a simple computer game. Children will design characters and backgrounds, create a working prototype, which they will then further develop based on peer feedback.
PSHE - In P.S.H.E we will be looking at how having a Growth Mindset will play a central role for all children in Class 8. We will talk about the 'power of yet', how we learn from making mistakes and understanding that perseverance and building resilience is the key to successful learning. We will be focusing on the CARE motto and the Golden Guides. We will then look at the roles and responsibilities of being a Year 5 or Year 6 pupil, including being an 8's leader in Year 6.
Music – In Music we will be completing a unit around the song 'I'll Be There' by The Jackson 5. This is a unit of work about Michael Jackson, his music and how he contributed to the development of Pop music. It incorporates an integrated approach to music where games, the dimensions of music (pulse, rhythm, pitch), singing and playing instruments are all linked.
Homework reminders
Homework supports the teaching and learning that takes place in school. We appreciate your support at home and if you have any questions or problems, please do not hesitate to ask. Thank you in advance.
Homework books will be sent home on a Wednesday. Please ensure that your child completes and returns the books on a Monday morning. Homework club will continue to run on a Thursday at lunchtime if any homework support is required.
Spelling words will be sent home on a Friday and the spelling test will be the following Friday.
Reading – please encourage your child to read at home each night and put a brief comment in their reading record books.
Theme Homework – One activity per half term
In a recent parent and pupil questionnaire both parents and pupils expressed an overall preference for the homework book format for homework. However, most responses noted that online activities were enjoyable and provided an alternative learning style. Please find below a list of suggested links for your child to use:
Maths Links
Literacy Links
Things to remember!
Bring reading book/bag into school everyday.
Homework will be sent home on a Wednesday and collected in on a Monday morning. Your child will continue to have a maths and Literacy homework book, as well as a reading book. I would appreciate your support to ensure that they read each night and complete all homework tasks. When your child finishes a book I will send a book review home for them to complete before they choose their next book.
Please ensure that your child has a full PE kit (including a white t-shirt, burgundy shorts or leggings for girls and black pumps) in school. Also, it is important that the kit is labelled to avoid mix ups/loss. Please ensure all kits are in compact string PE bags. It is also essential for your child to have an outdoor PE kit in school including appropriate footwear e.g. trainers.
Thank you in advance for all of your support at home with reading and homework. If you have any questions please don't hesitate to ask!