PLEASE STAY AT HOME, KEEP SAFE, SAVE LIVES. Wash your hands thoroughly and regularly for 20 seconds
If you'd like to support our elderly community with an activity over the Whit half term, click here for more details.
Coronavirus - INFORMATION FOR CHILDREN
The government have produced a children's guide to coronavirus which aims to answer children's questions about coronavirus, tell children how to stay safe and protect other people and how to help them make the best of their time at home. This is available at the following link:
https://www.childrenscommissioner.gov.uk/publication/childrens-guide-to-coronavirus/
or downloaded HERE.
Click HERE for a book explaining Covid-19 and social distancing in a child friendly manner.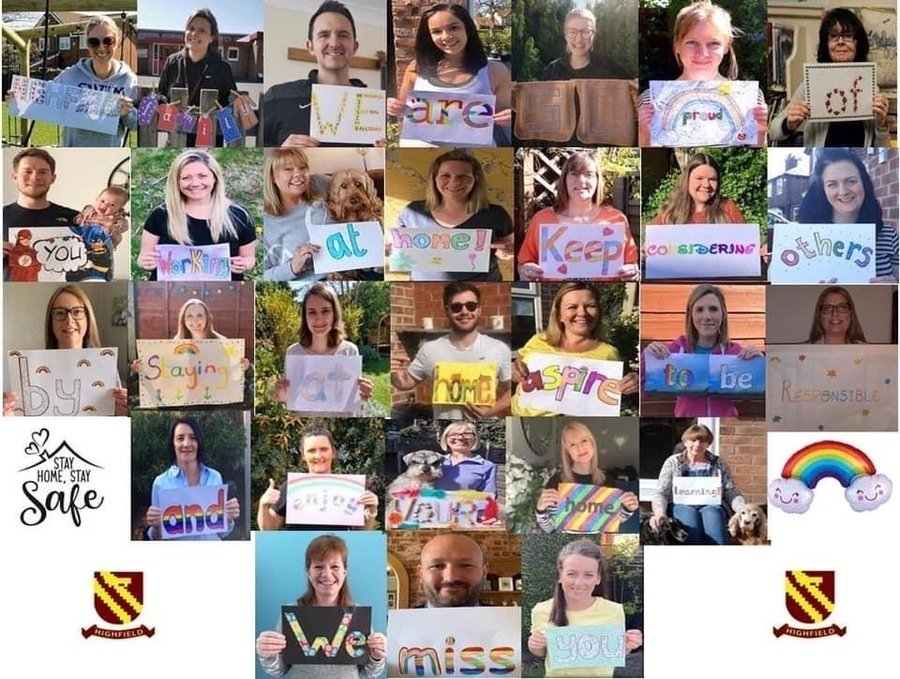 Class 1 Email:
I hope that everyone is staying safe and well and that you're managing to enjoy the sunshine as well as doing your home learning. I would love to see pictures of what you have been getting up to! Please send anything you would like me to see to class1@highfield-primary.trafford.sch.uk
I can't wait to see what you have been up to!
For any urgent concerns, then please email highfield.admin@trafford.gov.uk
Class 1 Home learning
Now its time to throw ourselves back into our learning; take a look at this weeks home learning.
Blue text = links to websites and documents
(Prior weeks' learning can be found here)
Week 9 ~ Week Beginning 15/6/20
(Prior weeks' learning can be found here)
Daily speed sound review - Set 1 Sounds
Daily RWI lessons available here
*Children are not taught Set 3 sounds in Reception so please do not worry about trying to these, this comes later on in year 1. Its more important to focus on embedding the sound knowledge of Set 1 and 2. Ensuring your child can spot these sounds in words, can you child fred talk words aloud with those sounds in and write them independently?
To see the full list of RWI set 1, 2 sounds alongside their rhymes click here.
Usually during this term at school we have a big push on writing; preparing the children for Year 1. Please try (where possible) to encourage your child to practise writing phrases and sentences about anything and everything. Each of the daily English lessons below give opportunities for writing to support you at home.
Week Beginning 6/7/20
For this week's home learning, we have two exciting Project's to choose from. As a break from the recent home learning format, children can choose from two topics by clicking on their selection and then choosing from a range of activities on the documents shown which covers the whole curriculum. It is completely up to you how many activities are completed and how you organise your time.
As always, we'd love to recieve some examples of what you have been up to by sending photos or messages to:
class1@highfield-primary.trafford.sch.uk
We hope you enjoy your learning!
Click on the link below to find your year group's projects: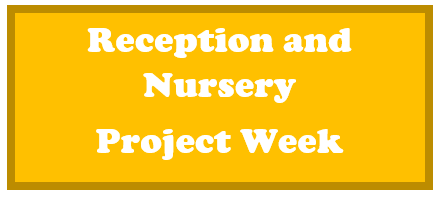 Additional Links to support learning
English
Online Gruffalo workshop, and lots more. Plus stories read by Tony Ross, author -

7 stories, Facebook
Solomon Kingsnorth

- Free books in PDF, Word and audiobook format - Alice in Wonderland / Wind in the Willows / The Railway Children / The Jungle Book / Peter Pan / Black Beauty
Reading aloud

- Children can listen to stories being read aloud - YouTube
Hoopla

- Public library online
Trugs

- Phonic reading games for all children, including those who cannot read or have dyslexia. Email: trugs@readsuccessfully.com for 20% off using

cv2020
Maths
Third Space learning

-

Primary resources for schools, and parent/carers guides to learning at home/support/advice/resources
The Maths Mum "I'll be running daily 'live' tutorials on my FB and IG feed covering maths topics and setting work for all primary school years. Also, regular Q&A sessions to help with any questions/problems"Maths Genie
Prodigy

- Curriculum aligned maths platform - Free
Bond Bonanza

- Free App helping children to move away from counting numbers up to 20 to turn them into instantly recallable number bonds
Manga High

- Full, free access at this time - Game-based learning
My Mini Maths

- (Yr 3, 4, 5, 6) Home learning packs ready to download
Parallel

- Weekly 15 minute maths challenges – interesting, fun and challenging material that goes beyond school maths
Matific

- Free trial - Primary - 2000 maths activities
Multiple subjects
Academics - Games based on a range of subjects
Kialo

- Critical thinking resources
CrickWeb - Free, online educational resources and games
Kapow - Art, music, IT, languages, relationships, wellbeing -14-day free trial
TTS - Free downloadable primary packs covering a range of subjects
Teach Starter

- Free month subscription plus learning from home packs (Maths, English, science, wellbeing)
ABCYA

- Free educational games
E-Safety
What can I do, as a parent or carer, to help my child stay safe online?
1. Enable Parental Controls on your home internet.
2. Encourage your child to use 'Safe Search' search engines. http://www.safesearchkids.com/
3. Be aware of how your child is accessing the internet. Although the legal age requirement to have Facebook, Instagram and many other social media sites is 13, some children still access and use some or all of these.
Parents should also be aware of the many games, including X-Box live and Fotnite that allow children to communicate with others whilst gaming. 'Yoursphere' has some great advice about ensuring privacy settings are in place to keep your child safe whilst online.
4. Have regular conversations with your child about their use of the internet. Click the image below as it provides a simple way of getting the message of E-Safety across to your child
You can download a comprehensive guide covering many aspects of e-safety here:
Trafford Netware support
Netware is a parents' guide to the social networks children and young people use. Please visit www.net-aware.org.uk for more information
Polar Bear Polar Bear...What Do You Hear? Told by the child of Class 1!
Support your child with Read Write Inc