WELCOME BACK - JANUARY 2021
(SPRING TERM 1)
This half term our theme will be 'Once Upon a Time'
Read Write Inc
Thank you for all of your support with our phonic work over the past term, it has been really positive to see the progress that the children have made. This term, we will consolidate Set 1 sounds and begin teaching the diagraphs within Set One.
These include 'sh' 'th' 'qu' 'nk' 'ng' and 'ch'.
It is vital for your child's development that you are regularly reviewing these sounds and listening to them read their reading books for 5/10 minutes each night.
English
We will now begin our Talk for Writing journey, our first focus text will be a specific Pie Corbett one called 'The Sheep & the Goat' based upon a traditional story. We will create a class story map and learn to retell the story from memory.
Once the children have learned the text, through actions and text maps, they have opportunities to role play the text during continuous provision. Appropriate props and resources are provided to the children to encourage and develop the children's story telling which helps to develop their spoken vocabulary. As a class, we will then adapt the original story by considering alternative characters and settings. They then re-learn the text with the adaptations and the teacher models writing to them. Within continuous provision, writing opportunities are provided to the children to encourage them to write captions, labels, familiar phrases or sections of a story using the skills they have been taught.
Listening to your child read daily is a vital part of their development, children need the repetition of recognising sound sand lots of practise blending. It is important that you sign the record book to show that your child has read. Children collect points for each adult comment in their book and if they read every school night, they are awarded a 'character' badge at the end of each half term. Reading and sharing books is so important and at Highfield we want every child to develop a love of reading.
Maths
Our next block of learning is called 'Alive in 5'. This unit covers; introducing zero, comparing numbers to 5, and finding ways to make 4 & 5 then finally comparing mass and capacity. Key texts to support your child in these areas can be found below..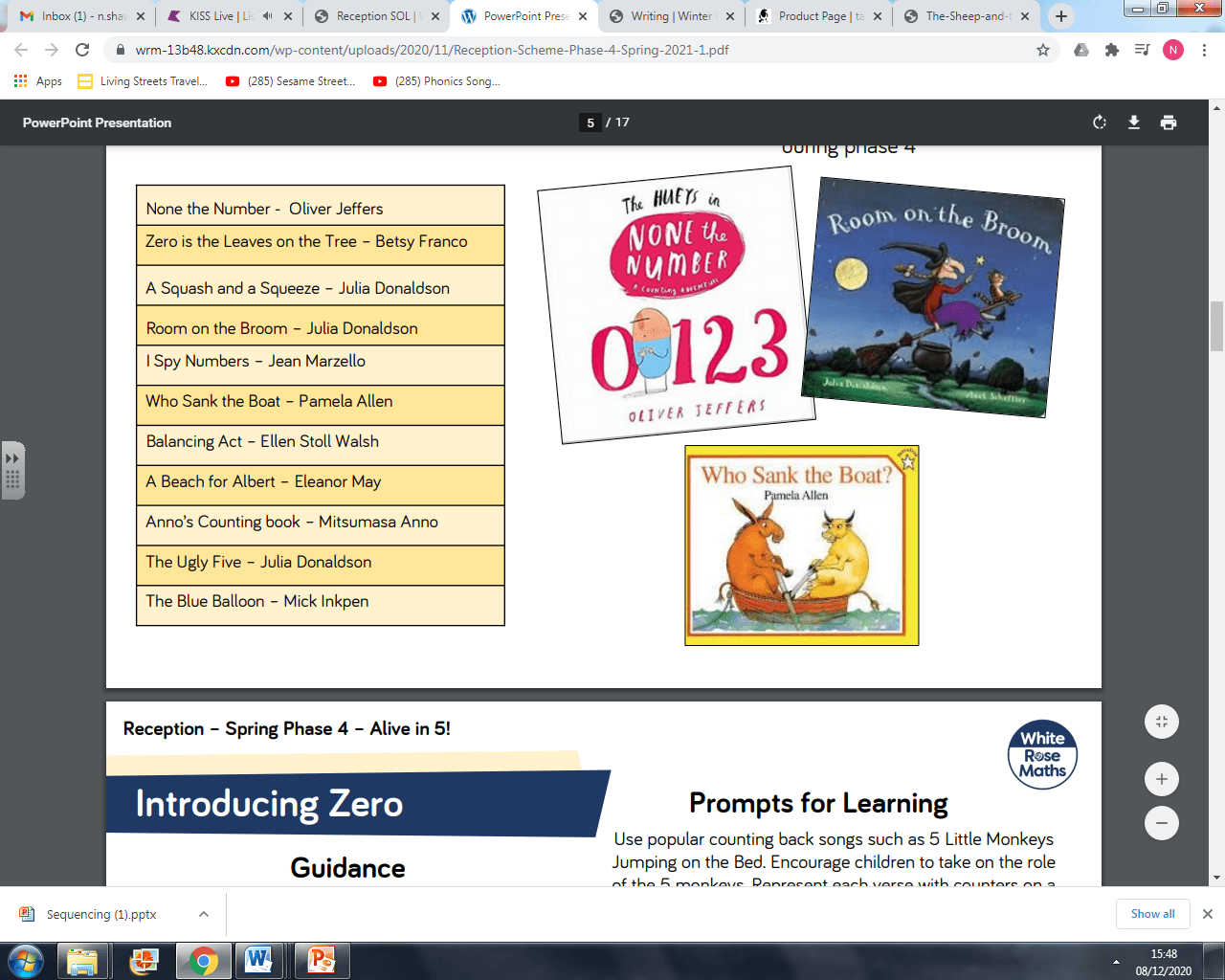 Home learning videos to support your child at home.
Alive in 5 - Week 1 - 04/01/20
In PE we will begin our gymnastics unit 'Traditional Tales'
In RE we will continue to look at the religions Christianity and Islam. The children now know our puppets Grace and Imran very well!
Our Understanding the World unit will encompass new life, habitats and plants. The children will be taught to talk about their environment and features of their environment they like/dislike. We will look at seasonal change and the flowers beginning to grow. (This may be in Summer term depending upon the current climate!)
In Computing we will be learning about how to be safe on the internet.
Our knowledge organisers summarise the learning that will take place. They include the key knowledge and vocabulary that we want our pupils to learn by the end of Reception. Each half term a newsletter will be sent out with more information on your child's learning for that half term; See below...