Class 3 Curriculum
English
We will be continuing with our Talk for Writing during lockdown. We are going to be looking at 'Instructions' for this half term. During our 'live' lessons, we will be learning the story of How to Make a Dumper Truck and creating actions and then we will look at a range of fronted adverbials (first, next, finally) and sentence types and how we can innovate the instructions and make them our own.
Maths
Measurement will be the focus of our learning in the first weeks of the Spring term 2. We will be looking at length, height, weight and capacity. We will also look at non-standard units of measurement and also standard units and incorporate lots of practical activities to enable us to be confident with reading them. We will then be looking at statistics (Y2) and fractions.
We will also practise counting in 2s, 3s (Year 2 children only), 5s and 10s.
Science
In science we will be learning about The Use of Everyday Materials. This will include looking at why materials are chosen for different reasons based on their properties. We will carry out investigations to test a range of materials and we will also learn some new scientific vocabulary such as, opaque, transparent, flexible and rigid to describe materials.
Computing
Our Spring computing unit is all about computer science and coding. We will use Scratch Jr, a free app available of on all phones and tablets, to learn how to make, move and control sprites. We will be developing the skills we learnt during our Autumn 1 term.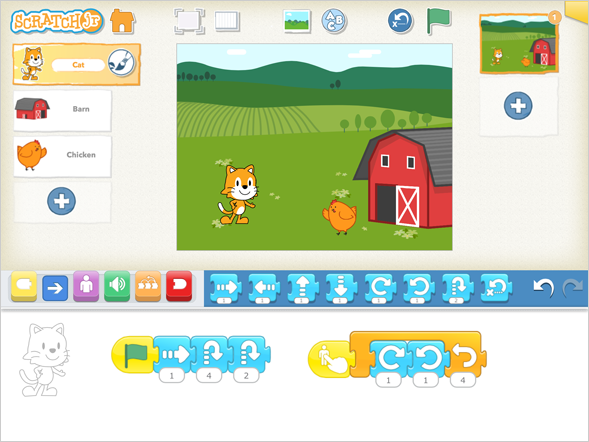 Theme
We will be learning about local history this term. We will focus on how Highfield Primary school has changed over the years, looking at old maps and comparing them to modern maps. We will also look at how school has changed over the years and we will be discussing changes with our grandparents and comparing what school is like now compared to when our grandparents were at school.
Art and DT
In Art, we will research weaving. We will learn how materials are made into baskets, chairs and clothes and we will create our own paper, natural and fabric weaves. In DT, we will be looking at how school dinners have changed over the years. we will also create our own school dinner 'pudding' for example, traditional rice pudding.
PE
PE lesson swill begin with us further developing our co-ordination through dance lessons and increase our hand eye co-ordination through tennis/ball skills. As we are in lockdown, we will be following the indoor cricket coaching for tennis and lessons from Marcus Rashford for our ball skills lessons.
PSHE
PSHE lessons will focus on well-being and mindfulness alongside our unit on keeping safe from our SCARF curriculum.
RE
In RE lessons we will be learning about different places of worship - We will discuss what makes some places sacred. We will look at special objects and symbols found in places of worship and also discuss the ways in which people use music in worship too.
Music
In music lessons we will be learning to sing and perform songs from Soul singers such as BB King. We will be looking at finding the beat, copying the beat and singing along with the beat.