Phonic Screening Check
What is the Phonic Screening Check?
Children in year 1 throughout the country will all be taking part in a phonics screening check during June. Children in year 2 will also take the check if they did not achieve the required result in year 1 or if they have not taken the test before.
The phonic screening check is designed to assess whether children have learnt phonic decoding and blending skills to the national expected standard.
What happens during the Phonic Screening Check?
The test contains 40 words. Each child will take the test on a one-to-one basis with their class teacher. The test will take approximately ten minutes per child, although all children are different and will complete the check at their own pace. The list of words that the children read are a comination of 20 real words and 20 pseudo words (nonsense words).
Pseudo Words: The pseudo words will be shown to your child with a picture of an alien. This is a familiar concept to the children at Highfield. The children are aware that an alien is telling them that the word is NOT real, and they must simply decode the word and not try to make sense of it.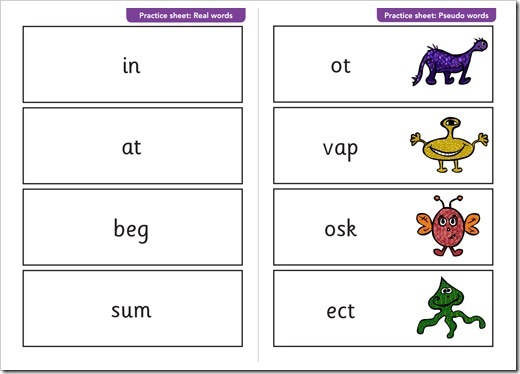 Results
Your child's Phonic Screening result will be reported to you in their end of year school report. It will tell you how many correct words they read out of a possible 40 and if they passed.
Phonics is taught every day to all children in Reception and Key Stage one, through the delivery of Read, Write Inc.
For more information on how reading is taught at Highfield please click on the reading tab and then follow the 'Helping your child read' link.